Our Studio
We have the largest baby photography studio in Bangalore with a fully air-conditioned space of around 3000 sq. ft., enabling us to have 2 shooting areas, 2 sitting/changing/feeding rooms, meeting rooms etc along with  Also, to meet the needs of an outdoor shoot which is usually not feasible because of rains or bad lighting conditions, we have created an artificial garden inside our studio and it gives us the creative freedom of creating all sort of setups with in the studio itself.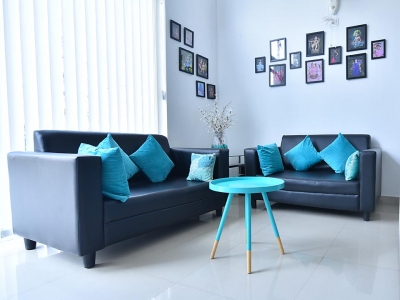 Reception Area : You are welcomed in our studio entering into a cozy reception area, themed in black and white, with a 50 inches LED TV to keep you involved till we make the things in place for the shoot.
Guest Rooms : You are made to sit in one of our guest rooms which you can use for changing, feeding etc. Some times shooting with babies becomes tiring for the parents, therefore, the room will have free of cost snacks, juice, water etc to keep you energetic during the shoot.
Artificial Lawn : Shooting outdoors comes with its own challenges when it is about kids although the greenery looks amazing in the photos. Lighting and weather are huge issues for outdoor shoots. Usually lighting is good early in the morning but babies are rarely active at that point of time and then weather plays its tricks too. Thus we ended up setting an artificial garden within the studio itself to give outdoor pics in the comfort of the studio.
Props : We started our baby photography journey in 2014 and since then we have been collecting props for the shoots and now, we have more than 300 themes for the babies and still we spend a huge amount on props. You can imagine the amount of props that we have by the fact that we have 6 store rooms filled with props, dresses and accessories.
Shooting Areas : We have 2 shooting areas in our studio along with the separate changing rooms and washrooms for both sections. We used to do 2 shoots simultaneously in the pre covid era but now we have restricted that to ensure safety.